How to keep your Carpet Clean in Murrieta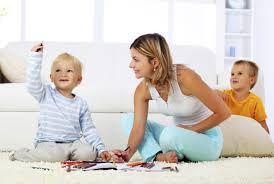 Wouldn't you think it would be nice if summer didn't mean leaving the house messy? Let's discuss on some home cleaning tips for summer call www.healthyhomeservices.net
As you plan many things with your kids during the summer vacation, however, it gets too hectic in completing all the tasks yourself. It may be ideal to give kids some ownership in helping you with the chores. Is it a good idea? Or not.
In this hot summer, School's are closed & which means kids are at home all the time & as an incentive, their friends are over as well, & the house is feeling the stress. This also gives you an advantage of daylight to teach your children some basic tasks on keeping the house clean with clutter free environment & giving everyone in the family to spend more quality time at park or pool etc.
You need to start looking & notice on how your family is using the home & observe where items tend to pile up or create clutter. Have baskets assigned to the items which are apparently left at he entrance of your home? Experts say if towels are piled exactly outside your patio door which leads to your pool then place a basket & assign it to make it handy for the towels itself. Similarly, bags or hooks for balls, toys or outdoor activity items can be handy to place them in the garage. This process will help to make it easier to put things away to their assigned keeping areas & keep them clean.
If you simply want to enjoy your holidays & it's time to call experts to take care of your cleaning job of your house.
Healthy Home Services
Address: Murrieta, CA
Phone:(866) 960-9692