Brava Tweed Value Packs
$29.94 - $44.91
$23.94 - $35.91
20% off
Create sophisticated knits in easy-care
Brava Tweed
! Our premium acrylic is enhanced with flecks of viscose Tweed to add depth to sweaters, blankets, and more while maintaining the durability and affordability you can expect from the Brava family. The range of coordinating colors all feature cream, coffee, and charcoal tweed flecks, and for even more color options, Brava Tweed can mix and match with Brava Worsted or Brava Speckle to create beautiful projects! Hypoallergenic, hard-wearing, and machine washable, as always, Brava Tweed is sure to please.
Fiber Content: 97% Premium Acrylic, 3% Viscose
Weight: Worsted
Knitting Gauge: 4.5 - 5 sts = 1" on #7 - 8 needles (4.5mm-5mm)
Crochet Gauge: 11–14 sc = 4'' on I - K hooks (5.5 mm-6.5 mm)
Yards: 218 per skein
Grams: 100 per skein
Care: Machine Washable / Tumble Dry Low
Contents for each bundle can be viewed by clicking on their image.
{{ props.errorMessage || props.successMessage }}
40186 - Brava Tweed Value Pack - Summer 2023

Create sophisticated knits in easy-care Brava Tweed! Our premium acrylic is enhanced with flecks of viscose Tweed to add depth to sweaters, blankets, and more while maintaining the durability and affordability you can expect from the Brava family. The range of coordinating colors all feature cream, coffee, and charcoal tweed flecks, and for even more color options, Brava Tweed can mix and match with Brava Worsted or Brava Speckle to create beautiful projects! Hypoallergenic, hard-wearing, and machine washable, as always, Brava Tweed is sure to please.


Value Pack contains:

9 skeins of Brava Tweed (1 of each, clockwise from top left: Elderberry, Wreath, Kenai, Wasabi, Lilac, Pumpkin Bread, Poinsettia, Boysenberry, and Chimney Sweep)
Total Yardage: 1,962
47206 - Brava Tweed Value Pack - Summer 2022

Create sophisticated knits in easy-care Brava Tweed! Our premium acrylic is enhanced with flecks of viscose Tweed to add depth to sweaters, blankets, and more while maintaining the durability and affordability you can expect from the Brava family. The range of coordinating colors all feature cream, coffee, and charcoal tweed flecks, and for even more color options, Brava Tweed can mix and match with Brava Worsted or Brava Speckle to create beautiful projects! Hypoallergenic, hard-wearing, and machine washable, as always, Brava Tweed is sure to please.


Value Pack contains:

6 skeins of Brava Tweed (1 of each, clockwise from top left: Goldenrod, Rosefinch, Heron, Wren, Stratus, and Mink)
Total Yardage: 1308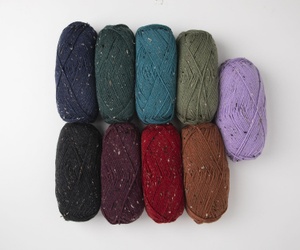 ---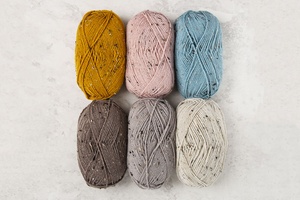 ---